I occasionally run into atheists and (more often) agnostics who say "Atheism doesn't provide a sense of community. How are we providing a sense of community?"
Well, I was part of the Mormon community for 38 years, and let me tell you: Community sucks.
No, seriously, it's way over-rated. If I've learned one thing from my Mormon days, it's that just believing the same thing as someone else is not a very good indicator of whether you'll get along in other ways. And my experience with other atheists has not done much to contradict this. There's only so many times you can say 'Yep, Sagan/Minchin/Dawkins/Doctor Who is awesome.' Maybe it's just not something I need, or I can get it from online communities, or something. Also, I'm afraid of echo chambers.
Mind you, I'm lucky. I have a great bunch of people online and off that I get my people needs from, and some people don't. And some people just groove on having a community, and we need a multiplicity of approaches in atheism anyway, so I was not entirely displeased to learn that the Sunday Assembly was coming to Perth. It's the project dreamed up by a couple of UK comedians, Sanderson Jones and Pippa Evans. They're on a 'Forty Dates and Forty Nights' tour, getting Sunday Assemblies started in major cities around the world. Apparently there's a bit of comedy, games, and some rock music. Oh, and community. So… it's like a born-again church? Ew.
Some people haven't been as keen on the idea of Sunday Assembly, and I understand why. After you've had your millionth boneheaded 'atheism is not a religion' conversation, now here comes Atheist Church! Oh, great. But don't be like that — let's come on down to mingle with the godless and see what it's about.
***
We're in a lecture theatre at UWA, 150 of us, including some children, clapping and bouncing around, singing "Walking On Sunshine". Yes, that is as daggy as it sounds. But Sanderson is here leading the singing, and he's so enthusiastic and boisterous that I don't mind playing along for a little while. Is this what happens at charismatic churches? It seems like it — there's a reading just like at church, there's Sanderson being the likeable and wise-cracking leader figure just like at church. Oh, and there's a collection just like at church. It cost the UWA Atheist and Skeptic Society a bit to hire the venue, and some of the money will also go toward the next meeting. One thing I don't think they do at church is a game: Danish Clapping. Everyone pairs up with different people a few times, and I chat a bit with my game-partners between rounds. Next, a physicist explains a bit about the origin of the universe and the cosmic background radiation. It's all light-hearted, kind of enjoyable, and certainly more fun than a dreary Mormon Sacrament Meeting.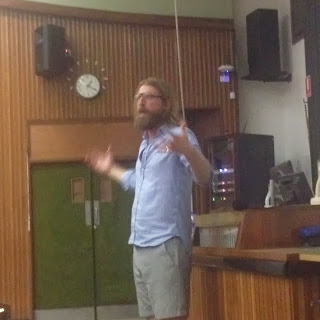 ***
Sanderson says Sunday Assembly wants to use all the good things about religion, but leave out the god bits. It reminds me of that approach to curing cancer that involves giving the patient AIDS (or sort of). Doctors take HIV, remove the part that destroys your immune system, and patch in something that kills cancer cells instead. Now imagine that we do the same thing with religion — take all the mechanisms that religion uses to help itself propagate, and then strip it of its toxic theistic payload. Done that way, atheist church would act as something like immunisation, since the churchy aspects of theism — whatever attraction that holds for some people — would have been safely co-opted. Or would this backfire, reifying the whole 'church is fun' concept? Not sure, but it seems to be a good imitation. I can't really see anything here that would be out of place in a church meeting, except the conspicuous absence of anything to do with a god. There isn't even any religion-bashing. Sanderson explains that they want to keep it positive, or as he says, "Nothing that would make my religious granny uncomfortable." So maybe this would do for someone who likes the feeling that they get from church, and the exhortation to — as the Sunday Assembly motto has it — "live better, help often, wonder more". Maybe people stumble into churches with those ideals and like what they find, whether they believe in a god or not. Sunday Assembly could offer that, but with no supernatural ingredients.
***
Sanderson leads us all in a moment of silence, and suggests that we think of what we have. What we have? I'm pretty lucky. I have a good job, a beautiful and loving wife, two smart and strong boys. My health and a home. Sometimes I think of my frustrations and disappointments, but here in the silence, they seem small compared to those of (say) people in the Philippines, hit by disaster. I feel a bit more grateful, and make a mental note to donate more to people who have lost everything.
The theme for today is 'Impromptu' because the whole thing has been arranged at the last minute. The venue was only arranged a couple of days ago. Sanderson is about to give a small talk on today's theme, but he can't think of anything relating to 'Impromptu'. Someone in the audience helpfully suggests 'Live in the moment!' There it is; there's his topic. And he speaks about being aware that we're alive, and one day we'll be dead and not able to be aware of anything. He gets us to clench up our fists — something he liked to do as a kid — and feel the tension spreading to our arms, shoulders and chest. Then we let it go. Aaaah — release and relaxation.
One more song — 'Down Under', of all things — and we're done. Sanderson will have moved on by the next meeting in a month. Legend has it that he will return, perhaps in 2,000 years. In the meantime, it's up to us to keep it going and he gives tips on the format to those who stay to form a committee.
***
I wouldn't want Sunday Assembly to be the only way I get my atheism on, but it could be a part of this complete breakfast. I'd think about going again; I probably will go to the next one, though I might not get evangelical about it. It may not be to the taste of all atheists.
Tell you what, though. I saw someone there that I knew. He's a guy who's attended lots of churches for a long while, tried to be a Christian; he's sort of a seeker. I said hi, and asked him what made him want to attend. His response, paraphrased, was "Well, I like going to church, but I no longer think there's a god. I realised that what I needed in my life was more positivity and joy. So that's what I'm here for." (I asked if I could share that here in this post, and he said that was fine.)
More positivity and joy. Couldn't we all use some of that? So I don't begrudge the concept. If it takes off in Perth, I'd say that's what he'd be likely to find at a Sunday Assembly.