Laurence Krauss is a physicist. His talk was titled "A Universe from Nothing", which by no small coincidence in the title of his book.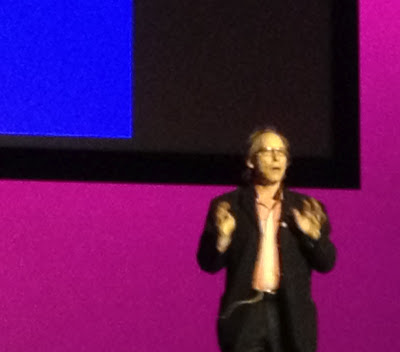 "A Universe from Nothing" is also the title of this video he gave in 2009.
It would probably be a good idea to watch this video, rather than reading what I'm writing about it. I'm not a physicist, so I'm very likely to get it wrong. Krauss explains the origins and fate of our universe in a clear style which even Cardinal Pell would understand. ("Though he's never thought about anything deeply in his life!" snipes Krauss.) This feeling of understanding ends immediately after the talk, leaving you with pages of notes full of gibberish. Perhaps my gibberish will make sense if you watch the talk first.
Here are some thoughts that I'm sure I got right.
• People ask, "Why is there something rather than nothing?" But nothing isn't as nothing as we used to think it is. 'Nothing' has energy. Empty space is actually a brew of particles that pop in and out of existence on tiny timescales. These particles have an impact on the mass of our bodies. Gravity plus quantum mechanics allows space itself to appear from nothing. So a universe from nothing is not only plausible, but likely.
• It was once thought that the universe was slowing down, and would end in a 'big crunch'. (I remember hearing that back in the 70s.) But now that appears to be wrong. (Krauss: "Was the data wrong? It often is. The first set of data is always wrong.") It now appears that we live in a 'flat' universe that will keep expanding forever, but more and more slowly. Krauss says that only a flat universe could arise from "nothing" and keep existing long enough for us to be here.
• "The best state to be in if you're a scientist in to be confused. And I am."
• "The real universe is more inspiring than any fairy tale."