Eugenie Scott is the Executive Director of the National Centre for Science Education. Her talk was "Reason and Creationism".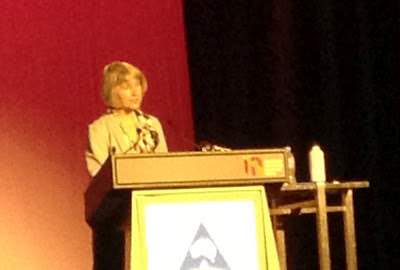 I've disagreed with Scott and the NCSE over the years because of the stand she's taken on the 'accommodationist' side of the science and atheism divide. It's not because of her reluctance to fly the 'atheist' flag; I'm happy for the NCSE to appeal to a larger audience of possibly religious folks who would otherwise be put off by the 'atheist' label (see also Neil deGrasse Tyson). I also understand that the NCSE is in the business of teaching about evolution, not atheism. And so Scott has avoided the conflict. That would be okay, if she didn't set herself against the New Atheists who want to take creationists down to the mat. New Atheists want to force the conflict between creationism and reality because they know it's a debate they can win; accommodationists would be happy if they could fool creationists into thinking that there is no conflict between evolution and faith long enough for biology teachers could get on with their work.
The accommodationist view has always struck me as weak and disingenuous. When Scott says that she does not see a "dichotomy between science and religion or evolution and religion," well, that's just wrong, at least for Abrahamic religions that take their doctrine seriously. They make claims about the origin of the world, claims which many of their members take seriously, and those members reject evolution because of those claims. And every time she says that science is somehow powerless to evaluate supernatural claims, I scream. Science tells us exactly what to do with supernatural claims; bin them until they're supported by evidence. Oh, they can't be, because they're not verifiable? Then that's a problem for the believers to sort out. They need to do the work of defining what they mean by 'god' and backing up their claims, but they never seem to get around to it because they're too busy preaching the word, brother.
Simply getting religious people to sign off on evolution is not the ultimate goal — the goal is getting people to reason without superstition. Non-acceptance of evolution is just a part of this larger problem, and if we don't work on this, irrationality will pop up in other ways (e.g. climate change denialism, which the NCSE is now also fighting). And trying to do this by claiming that there's no conflict is just fooling people, and I don't think that even the religious will be fooled by it.
Gnu Atheists want to tell the truth. And they're arguing from an advantageous position; when you have the facts on your side, why not argue from facts?
Well, this is an old argument, and once I get to this part, I usually regain some perspective, and remember that Scott and the NCSE aren't the bad guys. They're out there teaching the facts about evolution, and climate change. In fact, the NCSE news feed looks to be a good resource for evolution news. The NCSE deserve some love, even if their approach bugs the shit out of me, and even if Scott undermines her own work by saying wrong things.
To the talk.
Scott started not with biology, but with geology. There are two principles that help geologists figure out the age of a rock formation.
The principle of horizontality states that layers are layed down horizontally.
The principle of superposition tells us that lower layers are older.
But this makes life hard for a Young Earth Creationist because the earth as we see it takes longer than the 6,000 years they posit from their reading of some book or other. They allege that there hasn't been enough time to lay all that rock down, and so they say silly things, like the Grand Canyon was laid down in a year. The geology of Coconino County, Arizona poses a special challenge for YECs because they have alternating wind-lain and water-lain layers, and that's hard to do in a short period of time. But they take up the challenge, and try to get their work past geology editors.
Scott says that creationists see themselves as the good guys in a culture war. They reject the idea that you can be good without a god, (says Scott: "I don't know about you, but I haven't killed anyone in weeks!") and see the world as a struggle between their god and materialism. But this is a linguist trick, explains Scott. Materialism has two senses that creationists conflate:
Methodological materialism refers to the practice of using natural explanations for the phenomena we observe, and
Philosophical materialism is the view that matter is all there is.
(I suppose we should add to these the idea of acquisitive materialism, concerned with getting and having the latest, which really can be destructive, IMO.)
Fighting materialism, says Scott, is a strong motivator for their attacks on science, as they try to pave the way for Christian theism. Scott has no doubt that creationists believe their schtick, but their typical modus operandi is to bypass the process of communicating with the scientific community and take their arguments directly to an undiscerning public, as in high schools and even very young children. That's because their fight is a political and cultural one, not a scientific one.