Times come and times go, but religion provides an anchor of constancy (if an anchor's what you need). So it's good to see Mormon apostle Russell Nelson engaging in the time-honored religious tradition of slagging science.
Well, that's not fair. If there's science that they like, then it's a gift from god. If they don't like the science, then it's either Satan's deception, or some irrelevant wild guess that will get resolved in the fulness of time.
Here's the clip (from 7:12).
"Yet some people erroneously think that these marvelous physical attributes happened by chance or resulted from a big bang somewhere. Ask yourself, 'Could an explosion in a printing shop produce a dictionary?' The likelihood is most remote. But if so, it could never heal its own torn pages or reproduce its own newer editions."
The printer's shop analogy is extremely tired — evolution is not 'by chance'! Mutation is, but natural selection is non-random. So yes, if books could reproduce and if only the fittest books survived to reproduce, then yes, we would see books that could heal torn pages and update themselves. Nelson is making a false analogy between a living being and an inanimate object, and the two have different qualities.
Analogy aside, what Elder Nelson has done must be very strange and uncomfortable for Mormons. He's waded into science, and sneered at ideas from biology, physics, and cosmology that he doesn't undertand, and that there's real evidence for and no real reason to disbelieve.
To see why this is such weird territory he's in, let's take a look at mentions of 'evolve' or 'evolution' in General Conferences.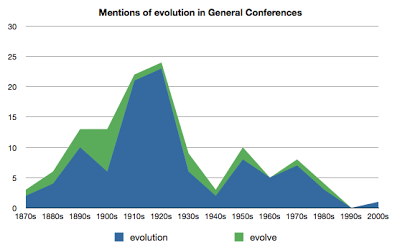 Predictably, the most mentions came when evolution was a new theory, and religious people were scrambling to figure out what to do about it. It popped up again as more young people started attending universities, and horrifying their religious parents with the science they were learning. Since then, things were calming down to background levels. The two words 'evolution' and 'evolve' weren't even mentioned in all the 1990s! The last time Darwinian evolution was mentioned in General Conference was in 1984, when Bruce McConkie and Boyd Packer both had a bash. That's 28 years of letting it lay.
So the scene was set for the LDS Church to let the issue go, accommodate evolution, and claim that they were never really against it, which is how they seem to resolve all their old conflicts. Instead, Nelson has recycled his old material, and renewed the attack. That's going to take some time to walk back.
And just for comparison, no GA has ever trashed the Big Bang — the phrase doesn't appear in the entire GC corpus. Nelson is really in deep water here.
What must intelligent Mormons be thinking?
a. Oh, Grandpa!
b. Um, are we not supposed to believe in the Big Bang now?
c. He spake as a man.
d. Let's go shopping!
e. We just heard how not everything from the pulpit is doctrine, so no problem!
f. Holy fuck. This guy is a leader of my church, supposedly getting revelation from god, and he's completely and unambiguously wrong. What else is he wrong about?
Because he is wrong. He's proudly ignorant, making a joke out of something he doesn't understand, and expecting the audience to laugh along. (Which of course they did, nervously.) He's coming off as really dumb, and he's considered one of the smart ones! (He was a doctor, doncha know.)
The takeaway: A major LDS leader just put himself (and the church) up against science. Are Mormons creationists now? Or is it possible to ignore an apostle?
Will this shake some educated Mormons up? The likelihood is most remote! But I think it should be a really big deal, and I'd like to hear from some smarter Mormons to see how they're coping with this.