Like everyone else in Australia, every year I get phone directories plopped onto my porch (sorry, veranda), even though I don't want them. (Between Google and the White Pages website, phone books seem like such a leftover artifact.) And every year, I dutifully carry the dratted things off to the Post Office because they want them, and they're happy to hold extra copies for people who want extras. Apparently there are such people.
Sensis is the company that makes the books in Australia.
Sensis admits that producing the 22.5 million White Pages and Yellow Pages directories in 2009-10 created the largest part of the company's carbon footprint. More than 52,000 tonnes of paper are used to make the directories each year and they account for 175,000 tonnes of emissions annually, while Sensis's business operations (fleet, electricity and air travel) total 30,000 tonnes of emissions.
If everyone's getting the books I'm getting, 22.5 million phone books would cover the state of WA nearly twice.
Well, I've just discovered that you can halt the tide by opting out through Sensis' Directory Select website. By telling them your address, you can cancel delivery and stay off the list for three years.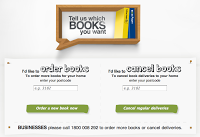 It's not the best solution — the process should be 'opt-in', rather than 'opt-out'. Why don't they do it that way? Oh, someone's already asked.
Why not offer an opt-in system rather than an opt-out system?

With such widespread use of Yellow Pages® and White Pages® books and only a small proportion of people requesting not to receive a book, we believe an opt-out such as www.directoryselect.com.au is an appropriate way to support consumer choice.
Hey, how about we make that proportion a whole lot bigger? Head over to Directory Select now while you're thinking about it.