I've been ignoring the European burqa ban. It's fraught. Nonetheless, the issue marches on. Recent attention has focused on France.
French burka ban: police arrest two veiled women

French police arrested two veiled women this morning just hours after the country's new ban on wearing the burka in public came into force.

The women were arrested along with several other people protesting in front of Notre Dame cathedral in Paris against the new law.

Jourrnalists at the scene said the arrests came after police moved in to break up the protest which had not been authorised.

On Saturday police arrested 59 people, including 19 veiled women, who turned up for a banned protest in Paris against the draconian new law, the first of its kind to be enforced in Europe.

Earlier, French police said they will be enforcing the country's new burka ban "extremely cautiously" because of fears of provoking violence.
To start off, I think the covering is a repressive religious tactic to keep women under wraps and under control.
On the other hand, if I wanted to flaunt my stuff rocking a burqa (or anything else that covers my bits), why should the government stop me? Good on those protesters for their civil disobedience. (Something one hasn't always seen from certain quarters.) We don't want the law to be just another form of coercion, unless some better good is served, like the liberation of women from religious tyranny.
Which brings up a point: Burqa bans do not automatically lead to female emancipation. When the Shah of Iran banned it (I am told), many women were accustomed to it, and would never have appeared outside without it. So they just didn't go outside. But that just shows that religious tyranny, when entrenched, creates unfortunate situations of moral conflict for believers.
If there is a principle behind the burqa ban, it could be worded like this: People should be allowed to wear what they want, free of coercion. Unfortunately, it's not simple to tell what someone 'wants', or when someone is being coerced. People can report that they want things that they have been coerced into wanting. The fact that the burqa is associated with religion tells me that, ipso facto, there's some coercion going on. I have no doubt that women who wear burqas will tell you they 'want' to wear it, just as Mormon women will happily tell you they don't 'want' the priesthood.
So, let's give both sides their due. I think forced burqa wearing is coercive, and I'll even allow that government prohibition of the burqa is also coercive. Which leaves Muslim women caught in the unenviable middle.
(Notice that I'm not touching the 'security risk' side of the argument. I think it's bullshit, like all security theatre.)
But even though I can't stand ostentatiously religious and/or oppressive clothing, I'm reluctantly coming down against the burqa ban. Two things are pushing me. One: Legislating against the rights of minorities is a Very Bad Thing, and I can only think of a few things that would justify it. Harming bystanders or children would be two. These women are adults. Maybe they are in a coercive environment. Yes, that is messed up. I wish it weren't so. But we can fight this in better ways than controlling how people dress. If they can be told what not to wear, I can be told what not to wear. Will I be told not to wear my patently offensive 'Gay Jesus' t-shirt? Come on.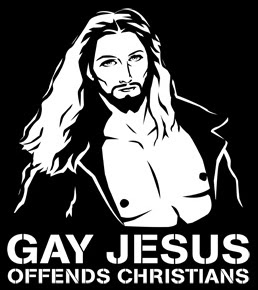 Two: The law also gives right-wing jerks the ability to push minorities around. Forget that.
What do you think? I'm still convincible.
UPDATE: A good bit, this.