I have this memory of climbing into my parents' bed (which I used to do all the time) and talking to my dad. I must have been about six. For some reason, I was curious about how-many-years-old I was, and what would happen at the various ages I'd be. For every integer I gave him, Dad told me what would happen. At eight, I'd get baptised.
What about twelve? At twelve, you get the Aaronic Priesthood.
…
What about 18? At 18, you can vote.
What about 19? At 19, you'll go on your mission.
…
What about 25? At 25, you might get married. (Dad got married at 25, so he thought that was the right age for me.)
And so on. I always liked that talk with my Dad because it gave me the idea that life could have a structure. Not having one kind of worried me.
Recently, I was clicking around the tools in my E*TRADE account (I have Tesla stock, thank you) and found an unusual timeline for retirement planning. Well, not exactly unusual, but it describes a perfectly planned, sedate life. But it was unusual for me to see it in this formulation.
Here's the graphic.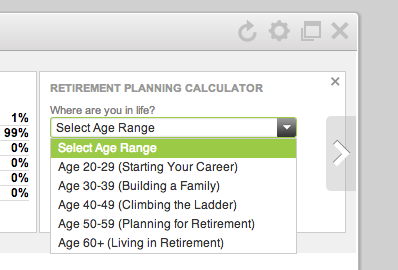 If that's too small to see, it reads like this:
Where are you in life?
Age 20–29 (Starting Your Career)
Age 30–39 (Building a Family)
Age 40–49 (Climbing the Ladder)
Age 50–59 (Planning for Retirement)
Age 60+ (Living in Retirement)
A life in five easy pieces, carved into orderly ten-year chunks.
I want to say, oh how sterile. A cookie-cutter plan for a boring life.
But I don't feel that way at all. In fact, I love seeing this plan. It's the closest I've found to a sensible cultural script. Doesn't the career-then-family idea seem more like what people actually do, and probably should do? I wish I'd seen this simple menu when I was young and starting out. It would have given me a template to work from, maybe to deviate from. But something. Some much-needed direction. And it wouldn't have been the Mormon plan I got, which was really dumb:
Mormon Plan for Mormon Males
Age 19–29 (Mission, Marriage, and Work, all at once)
Age 29–death (Endless String of Callings, Endure 'Til the End)
Whereas what really happened was this:
What Daniel Actually Did
Age 20–29 (Mission, Marriage, Kids, Uni — Bumping Around Clueless)
Age 30–35 (Actually Figure Out Who I Was and What the Hell Was Going On)
Age 36–40 (Reboot; Divest Self of Unwanted Baggage, Do Things Properly This Time)
Age 40–45 (Starting Your Career)
And from here on out, it's:
Age 46–60 (You're Much Too Old to Be Climbing Silly Ladders, Just Keep Being Awesome)
Age 60+ (Most Interesting Man in the World)
Okay, so I wasn't very good at following plans. But I'm glad I threw off the terrible plan other people gave me, and chose my own. Even so, I'm keeping an eye on the E*TRADE plan, just as a reminder that the clock is ticking, and there are some jobs to be done along the way, regardless of where I am now, or where I've been.