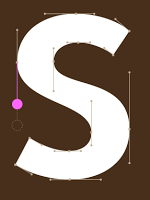 The makers of Kerntype have made another typographic game: Shape Type.
When you're making a font in a digital program like Fontographer, you spend a lot of time pulling the handles of Bézier control points around, trying to massage curves into a plausible letter shape. So can you drag the big pink circles to make a letter that looks good?
This one's a bit harder than Kerntype — I managed an 86. Beat that, I dares ya.