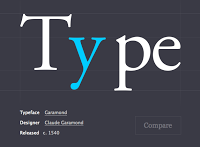 If you've ever looked at a sign, and said, "Well, that's the crappest kerning job I've ever seen," then I have a game for you.
What's kerning, you ask? Moving letters around to get the spacing right. And now there's Kerntype. It's a game that will test your visual layout skills. Pull the letters around until they look good, and see how your kerning compares to expert opinion.
Get kerning, people. Beat my 98.