France, what am I going to do with you? You know I love you, right? because you're so cool, and you have a great language and everything. But I'm all torn about this.
Paris ban on Muslim street prayers comes into effect

A ban on saying prayers in the street, a practice by French Muslims unable to find space in mosques, has come into effect in the capital, Paris.

Interior Minister Claude Gueant has offered believers the use of a disused fire brigade barracks instead.

The phenomenon of street prayers, which see Muslims spreading mats on footpaths, became a political issue after far right protests.
Sure, they're praying, which is stupid and useless. And it is unsightly having people clogging the streets like this.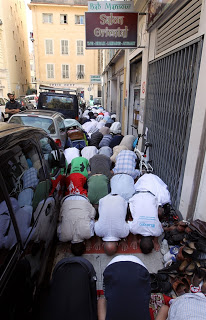 I actually feel kind of embarrassed for those people, groveling around like that. But as obnoxious as public prayer is, banning it will heighten tension, and turn an annoying (but relatively harmless) public performance into a political football — or even an opportunity for civil disobedience. That brings in the sympathy. Shoot, even I'd be sympathetic to some non-violent civil disobedience on a issue of conscience.
There must some way of fixing this without some ad hoc law seemingly targeting Muslims. If all these people praying in the street is a problem, how about prosecuting it using an existing law? How about obstructing a footpath? Blocking traffic? Noise pollution? Littering?
Okay, that was reaching, but I'm trying to help here.