Is there any language scarier than Arabic? (Unless you understand it, of course.) It doesn't go in the right direction, and it looks so… foreign! No wonder it's caused havoc before.
And when Arabic script unexpectedly appears on airplanes, well, it's enough to make people involuntarily micturate.
Mysterious messages that appeared to be scrawled in Arabic writing on the underbellies of several Southwest Airlines jets were being investigated Wednesday by the airline and the FBI, Los Angeles radio station KNX-1070 reported.
The graffiti, which began appearing in February on 737-model planes, has been found more often in recent weeks, according to the report.
The writing appears to have been etched using a chemical process and is visible only after an auxiliary power unit is turned on.
So how do they know it's Arabic? Gawker comes to the rescue with photos.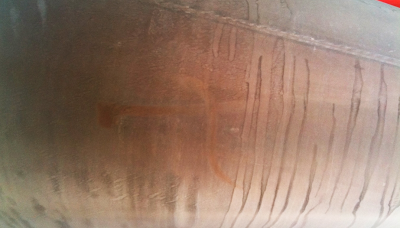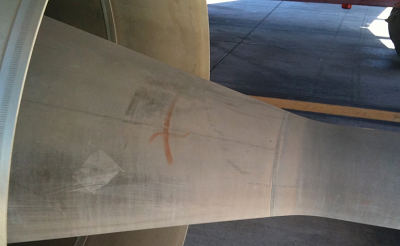 Where's the Arabic? You mean those cross-looking things that look like someone wiped some dust off the plane? That's the Arabic? Hey, wait — it looks kind of like a sword! Yeah! That's Arabic, right? I think they have a sword on their flags.
Well, the markings are so not Arabic that even the Daily Mail has had to admit it.
The airline had suggested the symbols, which only show up with heat and are believed to be vandalism, looked like Arabic writing.

However the Department of Arabic and Islamic Studies at Georgetown University in Washington D.C. looked at the photos for MailOnline and a spokesman concluded they are 'not Arabic script'.
It's kind of sad: Muslims are now the most-feared group in society, just as Jews, Freemasons, and Catholics were in times past. As such, nervous people project their fears onto them. Strange markings on airplanes? Concerns over immigration? Mosque down the road? Obviously all part of a takeover attempt by Muslims.
But now, hopefully now people who work in aviation can stop being worried about Arabic script, and worry about something else, like lesbians kissing.