The Provo Tabernacle burned down. It's a real shame. I went to church there a couple of times in my Utah days, and I remember it as a good old building. It would have made a nice library in 100 years.
One might wonder, of course, why the Mormon god would allow a church building to be destroyed by fire as he watches, pitiless and indifferent to human affairs. One might even wonder what message he intends to send. Perhaps an Old-Testament-style message of anger and vengeance! The fire and destruction symbolic of the wrath to come. A Mormon might get a sense of divine disapproval, and that would never do.
But wait! It's a Christmas miracle!
As the four-alarm fire raged at the Provo Tabernacle, firefighters and those watching helplessly from the sidewalk observed something truly remarkable. Some are even calling it "a Christmas miracle."

A painting of Jesus Christ burned in the fire, save for the image of the son of God [yes, that was the wording chosen by Fox News], which was left unscathed.
Yep, the church burning down isn't the real takeaway here. It's the painting. That's the ticket.
This is the Argument from Incomplete Devastation, one of many ways to creatively interpret events in order to sustain a narrative that you already believe. Religious folk are quick to use this one because in the face of disaster, there are only two possible outcomes — either your faith is boosted, or your faith is boosted more. You have to admire their optimism, at least.
Here's the scorched painting. Coming soon to a fireside near you.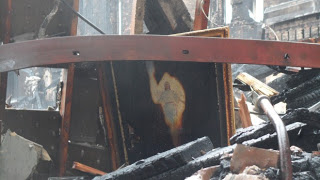 Wait a minute! Forget about Jesus — that outline around it looks strangely familiar! Could it be the hunched figure of…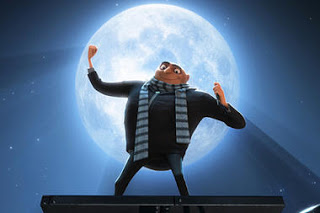 Nah.